Order a mural
When you book me to come and paint a mural commission, we usually start out by having a talk about which image, colors and style that should be used for the mural. You are also welcome to send me an image or two for inspiration, so i have a rough idea of what you want.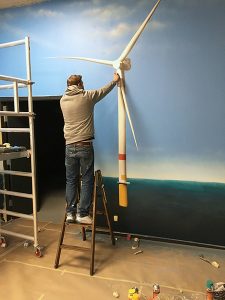 A mural usually takes about 2-14 days to complete, depending on how huge and detailed it is. The final price for the mural depends on these factors as well. We decide on a full price for the mural, when you have told me how huge the area you wish to have painted is, and which image should be used.
After we have agreed on a reasonable price and terms of the mural work, i either start working on a rough sketch of the mural, or you provide me with a photo or design of the image you wish to have painted. When the sketch or photo has been approved by you, we make an appointment as to when i can come and do the actual work. 
About the artist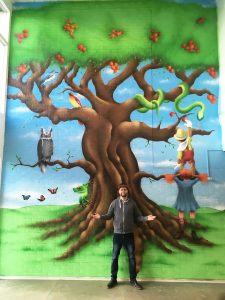 I have 20+ years of experience with murals and office interior painting, and during my career i have been commissioned to work for some of the largest companies in Denmark, including :
Siemens, Just-eat, Novo Nordisk, Pentia, AddTech, Chainbox, Aasted APS, Mikkel Kessler, Vertic, Fullrate, Telmore, Køge bibliotek, Pack-tech, United drinks, Comparex, Heinemann tax-free, RS-Components, Co-ro, TDC, Cowparade, Kbh. Kommune, CPH Fashion week, Bellacenter, Dawn Events,
among many others
Murals that inspire and lift the working environment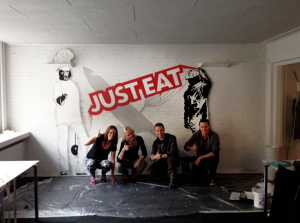 Studies have shown that mural artwork at the workplace lifts the creativity and overall mood for the employees.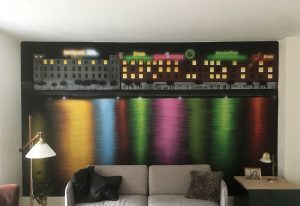 A mural in your private home can transform your living room into a completely unique and personal home.
Terms and practical info
When you book me to come and do a mural, you must make sure that there is good ventilation in the room and office space i have to work in. You should calculate on 6-12 hours after the painting has been done, before the spraypaint smell is completely out of the room after the work has been finished. I make sure that the area is covered up, so no paint comes on the floor or other places than the wall intended for the painting. I prefer to work in daily work hours from 9-5.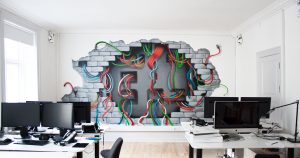 Mural pricing
Prisen på et vægmaleri afhænger primært af disse 2 faktorer –
størrelsen på væggen der skal males, samt motivet der skal males.
The price for a mural depends largely on these two primary factors :
The size of the mural, and the level of detail of the image. So in order for me to give you the most accurate price offer of your mural commission, you should provide me with this information beforehand. Then i can give you a full price of the mural work. Are you in doubt about which image you want to have painted, i always offer to come visit your company or home to have a non-committing talk about the job, so together we can find the best solution for your mural.
Location
You are very welcome to inform me about your location along with the mural info in your initial request. I am currently based in Copenhagen, Denmark but i also offer to come outside of Denmark to paint larger mural commissions. The travel fee and hotel stay will then be included in the final price offer.
The price
All murals are different in terms of size and detail level, so therefore i do not have a completely steady price – i do have a mandatory starting price of 1500 dkkr / for all commission mural work. The full price of a mural project is estimated by the size of the wall, the detail level of the image, how much materials should be used for the project, travel fees and so forth.

Contact me
It is in my great experience of 20+ years in mural and commission work, that i can guarantee you a 100% quality product when you commission me for a mural project.

No image is too difficult – only imagination is the limit.

Feel free to contact me by phone +45 26209415 or by mail will@becomeone.dk and i will get back to you asap with the best possible offer for your mural commission. You can also fill in my contact form below :